Welcome to the official North American AustriAlpin products website. As the exclusive North American distributor for all AustriAlpin products we are pleased to present here a selection of our most popular items. AustriAlpin is premium quality PPE safety hardware. Whether it be for military, industrial safety, fall-stop, para-sport, SAR, fire/police/tactical, theatrical rigging, or climbing and mountaineering – you just won't find a higher quality or safer product anywhere in the world.  You can trust our hardware to be the safest and most enduringly consistent in the world. From our warehouse and office located in Alberta, Canada, we service all our American, Canadian and Mexican clients.
AustriAlpin – about the brand
Located in Austria, AustriAlpin GmbH was incorporated as a premium quality hardware brand in 1996. Prior to the formation of this company, its ownership families (3 generations of expertise) were the founding and inspirational design force behind the Stubai manufacturing Co-op's safety, para-sport and mountaineering divisions. Separate and distinct since 1996, AA continues to base its incredible success on it's HIGHER IQ – that is, higher Innovation and Quality. Even in today's age of cheap outsourcing, AustriAlpin continues to design, source, and manufacturer all of it product range in Austria. Lowest cost ideals have a bigger price and we don't agree with a current market philosophy that your life and safety should suffer for a few extra dollars at the cash register!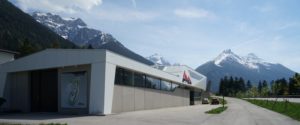 Located in the famous Stubai region of the Austrian Alps all our inspiration comes from the rugged, severe, and yet beautiful mountainous environment in which we live and work. Our products are an expression of these forces.

AustriAlpin Inc. is the Exclusive Distributor of all AustriAlpin products in North America.