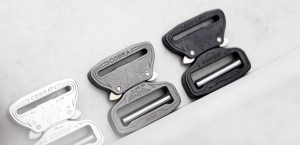 Patented AustriAlpin COBRA® quick releases are, without equal, the safest, most finely crafted, and strongest load bearing buckles available anywhere. They are also the only stab-lock style fastener in the safety products market that will not open while under load. That makes them the best choice (we believe, the only choice) for ensuring the highest degree of safety for yourself or your customer. COBRA® quick releases are CNC machined, assembled, inspected, and packed (re: from alpha to omega) in our ISO quality assurance acredited facility. All COBRA® products are tested and certified by highly respected independent /3rd party test houses and exceed Mil Spec guidelines for dust / sand / salt water as well as all applicable CE, EN, CSA, ANSI, and NFPA standards for fall-protection and personal safety. Our superior designs and commitment to quality guarantees the highest degree of reliability and assurances for safety and strength. Not to mention, they look awesome too!
The highest degree of safety >> COBRA® Quick Releases

All COBRA® quick releases are machined from the highest grade 7075 aluminum alloy and feature solid brass and stainless steel components. Each production batch is randomly test certified for strength, and in the case of our NFPA models, all are individually test loaded to 11kN. We offer numerous sizes, finishes, styles, and models to suit almost every application imaginable. COBRA® buckles are used in countless Military applications / contracts (with Berry Amendment approval). They are specified over and over again for special contracts and applications where uncompromising safety, long term reliability, and extreme performance are required. Feel free to contact us directly if you have further questions or any special requirements not addressed here. Please browse through the e-shop menu below and find further information here COBRA Booklet 2018 The 2019 catalogue has just been released from Austria, it will be available for download shortly.